Process Piping Inspection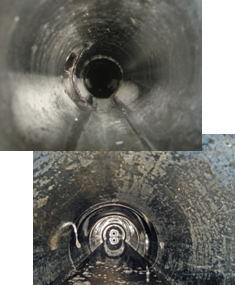 Ensuring the proper flow of critical process fluids through piping systems is important to the efficient operation of most industrial plants.
Cleaning of process piping can be completed utilizing various techniques; however, there are circumstances where it is nearly impossible to inspect an entire system due to configuration or access points.
That's why Hydro Mechanical offers Piping System Inspection Equipment to confirm where the blockage is and that the line is clear when we're done cleaning. Identifying a localized problem in a piping system that may extend for hundreds of feet saves time and money.
The system is simple, comprised of a small diameter camera that can be manipulated manually or by a remotely controlled crawler; the technician can effectively view the condition of a pipe or tube on a TV monitor 100 feet away. Results can be recorded and provided to the client for future reference.